Multimedia packages: Organizing 30+ pieces
One of the nice things you can do online (that you can't do well at all in a printed newspaper) is gather up a big bunch of stories and present them as an orderly set, a mini library. I've written before how sometimes these collections come off as disorderly warehouses. Today's example is the opposite: well-ordered and very easy to grasp immediately.
Frugal Traveler: American Road Trip is one of seven finalists for the Online Journalism Awards category "Outstanding Use of Digital Media" (large sites).
WAIT — before you click to look at it, test yourself. I often exhort my students to do this. Let me tell you what you have to work with. Then close your eyes and try to imagine how you would present it. Doodle a few sketches on a scrap of paper. Think about the best way to package this material for the ultimate user experience.
Matt Gross went on the road for 12 weeks this summer for The New York Times. His mission: to visit all 48 states in the continental United States. His stories and videos appeared once a week — like a mini-series on TV. In the end there were 14 videos (the opener and the closer are good teasers!), 14 stories, one slideshow, an FAQ and — because every road trip needs a soundtrack — one playlist (which you can download at iTunes).
The trick here is to design a package that can be updated each week. You know what it will hold at the end — you know the reporter has to finish in 12 weeks. In a way, this makes this package very easy to organize. Even better, it's a story about a trip of many miles, so you can orient the reader with a map.
Should the map be the primary interface, however? Stop and think. Is a map (in this case) the best way to ENGAGE the reader?
A comments page was set up separately for each week (wonderful!). In the first week, there were 1,019 comments. The following week, 540. After that, the number ranged from about 130 to more than 200. Gross answered 11 reader questions in July.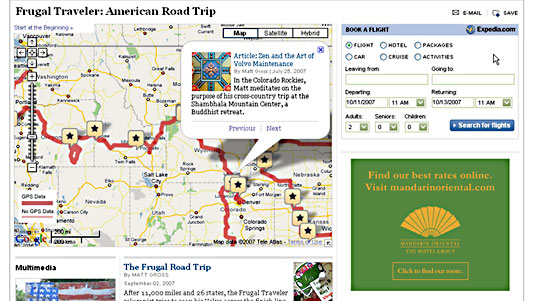 Overall, I think this is the most effective road trip package I have seen online so far. It's far from being the first, and it might not excite you as much at Gross' round-the-world trip last year. After spending a couple of hours reading at random and viewing videos, however, I had to conclude that this chronological column of headlines, teaser text and links made for an altogether satisfying browsing experience. There were no interferences, no waiting, no crazy fly-over-the-text ads, no Flash animations.
Why it works: Good, compelling writing. An appealing personality in the writer, who seems like someone anyone would like — humble, friendly, curious. Fun and interesting videos that are short enough, steady, charmingly narrated, and professionally edited. No gimmicks. No roadblocks. Clearly written headlines, links and teaser text.
What needs work: The functionality of the Google-based map was a bit wanky for me. The map was repeatedly slow to load, and for some of the locations, Next and Previous did not perform correctly.
I have to admit, not every package ought to be an extravaganza of Flash and splash.
Related Posts

(Sept. 17) Multimedia packages: Music journalism
(Sept. 15) Thoughts about the ONA finalists
---
Categories: examples, multimedia, storytelling
---