Posted on August 20, 2007
A peek inside the video training
I made a Soundslides about the video training I wrote about on Friday. It runs 2 min. 17 sec.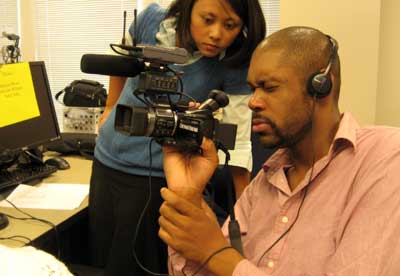 I shot 133 photos and used 30 in the slideshow. I interviewed six of the participants for about two minutes each. The trouble with this (as you'll see) is that it's not really a story. But I think it will give you a good idea of what the morning was like. Afterward, the participants spread out in and around the building to shoot, but I didn't have a chance to take pictures of them shooting that afternoon. I did the interviews after the shooting.
The interviews were recorded on an Olympus WS-200S with an Electro-Voice 635N/D-B mic. The audio was edited in Audacity. Photos were shot with my Canon SD700 IS. I lazily did not crop or tone them.