Posted on September 17, 2007
Multimedia packages: Music journalism
Among the finalists for the Online Journalism Awards category "Outstanding Use of Digital Media," three of the 11 packages center on popular music:
Forty Years of 'RESPECT' (Detroit Free Press): "From civil rights theme song to karaoke favorite, Aretha Franklin's 1967 hit gets its propers."
Hip Hop 101 (Wisconsin State Journal): An exploration of hip-hop culture in Madison, Wisconsin.
Wonderful World (The Honolulu Advertiser): A tribute to Israel Kamakawiwo'ole, a beloved Hawaiian musician who died 10 years ago.
Let's take a closer look.
R-E-S-P-E-C-T
"Forty Years" serves as a container for a huge amount of video. It begins with a well-written video history, illustrated with historical photographs, narrated by Detroit Free Press music columnist Kelley L. Carter. Aretha Franklin is a native daughter of Detroit (although born in Memphis), so there's the local hook — and the on-camera interviews were conducted right there in the Freep's backyard. One of the best moments is when Franklin's son Teddy Richards tells how the 24-year-old singer had a cold when she cut the record. It's also pretty cool to hear Otis Redding, who wrote the song, say, "This girl, she just took this song [from me]." Amen.
That first video (the intro) is as good as or better than anything you will see on television this year. I wish the embedded Flash video player had a time counter on it, and I wish it scrubbed a little better, but otherwise, it's all very, very good.
All video and audio were gathered by Mandi Wright, staff photographer. Awesome work.
The next thing I went to was the credits. To my delight, they opened within the package. I think it's nuts when designers make the credits fly out on a new page. The one drawback is, if you tried to look at the credits while the video was playing — oops, sudden stop, and you'll lose your place in the video. Ideally the video would pause itself, the credits would come on as an overlay, and when you closed the credits, you could resume the video exactly where you left it.
That nice way of handling the credits is impossible with the design technique used for this package, however. If you're a code monkey like me, view source and feast your eyes on a smorgasbord of 2002-style table tags. Remember image slicing? Yes, I have tried to forget, but apparently the technique is still alive and kicking in Detroit!
Even though this package will not win any design awards, it is completely attractive and very easy to use. Moreover, the video content is flat-out marvelous.
Check out the additional videos in the right-side menu list — 14 in all! (2) "'Respect,' often imitated" is quite enjoyable. (3) "'Respect,' Aretha Franklin" is a beautifully edited video valentine to the city of Detroit (yeah, it's too bad the titles of these videos are so useless). The final two (13 and 14) are interviews with the reporter and the photographer. Fantastic.
Random notes: The quiz answers are singularly unhelpful. The quiz itself is really good — I actually took it seriously, which is rarely the case with online quizzes (most of which are just stupid). Too bad you would have to write down your answers in order to use the answer key! The photo gallery (button: Photos) is excellent and very well designed. The "E-mail" button bites — try it and see. "You Sing It" is very clever!
Props to the Freep and everyone there who worked on this package. It's an excellent example of solid journalism.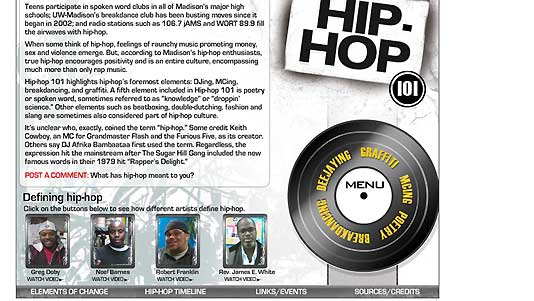 Hip Hop 101
First of all, I've got to chastise the designer: This package is 625 pixels in height. Get a clue, would you, please, about what the audience is looking at. I had to scroll the thing up and down repeatedly, which is too annoying.
The four video interviews are decent. I wish I knew who these men are. Apart from their names, I'm given nothing. Identify people! (Also, using a tripod would have been a big improvement.) The video scrubs very nicely, but there's no time counter. A time counter is really nice because it lets the viewer see how long the thing will take.
Separately, there is a fifth video interview, with a fifth person ("Elements of Change"). I can't figure out why he's not with the other four people. Is it only because you could fit four on the first panel, and then you ran out of space? Mm, not a good reason. I hope that's not it.
The main menu is a spinning vinyl LP in the lower right corner.
I got confused when I went into "MCing" and saw three photo buttons at the bottom that were almost identical to the buttons that played those first four videos (on the home panel). Here in "MCing," the three each open ONE video — the same one. I figured it out, but only after two or three unnecessary clicks.
Lesson: Once you set up a convention, such as each thumbnail opens a different video, stick to that.
The videos in the Breakdancing section are okay. The two videos in the Graffiti section are technically good, but I found them slow and boring. I happen to be very interested in graffiti, so I was disappointed. It reminded me how important it is to edit video for content, for story. That first video in "Forty Years of RESPECT" is an example we should all work to emulate!
The game in the "Deejaying" panel is a nice effort (and a way to show off Flash know-how), but it doesn't work all that well. The South Florida Sun-Sentinel nailed this game back in 2004. Try out their version and see if you agree.
The Hip-Hop Timeline has a very pretty graphic interface and is extremely easy to use. Now let's think about the timeline concept. For a real person in the audience who wants to learn about the key dates and events in the history of hip-hop, is this way of presenting the information effective? Is it efficient? "Pretty" does not automatically equal "good."
The Sources/Credits panel lists links to 11 outside sites. Cool. None of these are actually linked (clickable), and the text is not selectable. Totally NOT cool. Think about the audience and how things are used!
Links/Events: What could be sillier than finding a calendar for March 2007 … in September 2007? Either learn how to do dynamic data, or leave this out.
Overall, there's a lot of good in this package, including the graphic elements. However, it deserved to have a lot more thought put into how people are going to enter, use and move around in the package.
It's relatively typical that when someone with Flash skills gets the chance to build a big package, he or she puts a lot of time into designing cute doodads with sliders and buttons. Where the time ought to be spent, instead, is in designing the user experience and the architecture of the content.
Wonderful World
Here, the designer made the package too wide (1079 pixels) to fit on the average user's screen. The lack of market savvy this indicates really does amaze me. (It's as if you ran the column text off the edge of the page in the printed newspaper.) Again: What does your audience see?
The package has eight sections, arrayed across the top as buttons. This seems too many, to me. I have no idea what I might get when I click "Iz World" (although I have figured out the "Iz" is the artist, Israel Kamakawiwo'ole). "Share Aloha" also leaves me wondering. So I begin by clicking "Stories" only because it is first on the left.
This is a mistake I see in so many online packages: The first thing I am likely to click takes me to a package element that does not take advantage of online media. In short, text. Here is the text from the newspaper.
Next, I try "Videos." Seeing a big bunch of thumbnail images, I start to think this package is really a warehouse of pieces — and not an integrated experience to introduce me to this artist. I go back again and decide to give up on the buttons at the top. (I did eventually go back and sample a few videos. All I can say is — go and look at the Freep's "Respect" package. NOW!)
It's a big page, and I found it confusing. Text invited me to "sample 'Wonderful World,' click on our music jukebox. To buy the album, click on the link below." After a moment I decided that the elaborate graphic text "Music Jukebox" was, in fact, what I ought to click on to hear the music. (Call me crazy, but in 2007 I expect to see a player embedded in the page.) Finally, I heard the voice and ukulele of Israel Kamakawiwo'ole. I'm a big fan of the Louis Armstrong version, but that didn't stop me from enjoying this.
I think there's always a "So what?" factor in big packages, and you need to be aware of that when you are designing the user experience. At this point, if I were just a casual visitor to the site, I think I would give up and leave. I wasn't being lured into a story or an experience. I still didn't know anything about the musician, except I had heard one song.
Not being the average accidental site visitor, however, I soldiered onward.
I like the ukulele lesson, but I think the presentation could have been more user friendly. The three videos are presented separately in a Lightbox-style overlay. I can easily imagine a more integrated tutorial that would be easier to learn from. Maybe using video seemed like the easy way to produce this — if the only tool you have is a hammer, maybe everything looks like a nail to you.
Meanwhile, effort was expended on a spinning globe thing, which demonstrates that the newspaper has a good Flash designer. Was this the best way Flash could be used in this package? I keep coming back to the ukulele tutorial. That was a heck of a missed opportunity, in my opinion. Think: "Google search hits forever."
Other so-called interactives in the package include a timeline of Iz's life (I like timelines, but this one is hard to use, and the text is too small) and essential albums of the "Hawaiian Renaissance" (same design as the timeline, but with the music player appearing for some albums).
Most of the graphic elements on the entry page of the this package are very appealing, but the overall effect is not harmonious or clear. Within the package, the design is uneven. I'd have to say congruity and integration are lacking here.
Conclusion
I'm known as someone who loves Flash, and things made with Flash. In examining these three packages, I was reminded (as I often am) that people who know how to use Flash don't always know the best way to use it to tell a story or engage an audience.
I really wish the "Respect" package had been built in Flash — instead of that crazy, outdated sliced-image format. But you know, the package is gorgeous and works great. Why would I complain?
All three of these include a large amount of video. Here's where "Respect" totally blows away the other two. The interviews, storytelling and editing in "Respect" stand head and shoulders above the rest and should be looked upon as examples to be proud of.
The next time you hear someone say Web video is all bad, or newspaper video will never be professional in quality, just pull out the link to this package and make that person sit down and learn … some respect!
Related post (Sept. 15): Thoughts about the ONA finalists