Posted on September 15, 2007
Thoughts about the ONA finalists
It's fun to see a list of finalists for a big award. I'm always interested in the Oscar nominations, even if I don't agree with the choices.
In our field, the Online Journalism Awards are the biggies. The complete list of links to finalists went out a few days ago. The categories include, for example, "General Excellence (Large)," for which the expected giant media sites have been honored. There are three categories for "Online Commentary" (large, medium, small), which interest me not in the least. (I mean, text only? Yeah, okay.)
The categories that interest me the most are, of course, "Outstanding Use of Digital Media"; the two lists are for large and small organizations. The four "small" sites so honored are Bakersfield.com, Florida Today, Roanoke.com, and the Wisconsin State Journal. Seven large sites made the list: the Detroit Free Press, the Discovery Channel, the Honolulu Advertiser, the Los Angeles Times, The New York Times, the Star Tribune, and The Washington Post.
I'm going to take a few blog posts to discuss these nominees. Today I'll take the easy way out and link to those I have already discussed here in this blog.
A People Torn: Liberians in Minnesota (Star Tribune, Minneapolis, Minnesota) is one of the all-time best online multimedia packages — ever. I wrote about it at length in February 2007. There are lots of reasons to admire and marvel at this package; perhaps the best reason is the brilliant integration of the text stories, using normal HTML pages. I think Dave Braunger should get an award for design innovation.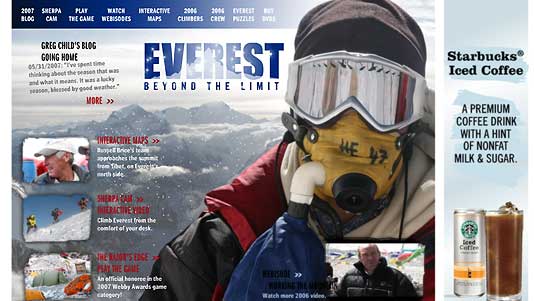 Everest: Beyond the Limit (Discovery Channel) is a site I didn't blog about, but I saved a del.icio.us bookmark back in December 2006 with this description: "… AWESOME. Three video cameras simultaneously climbing Everest, playing simultaneously for you, with TOTAL scrub capability — synchronized across the three cameras — with choice from SIX cameras!!! All Flash. Bet Ashley [Wells, of MSNBC.com] wishes he had thought of this." That was referring not to the entire package but specifically to the Sherpa Cam — which remains one of the most amazing things I have seen online to date. I think Discovery should win an award for the outstanding technical achievement here.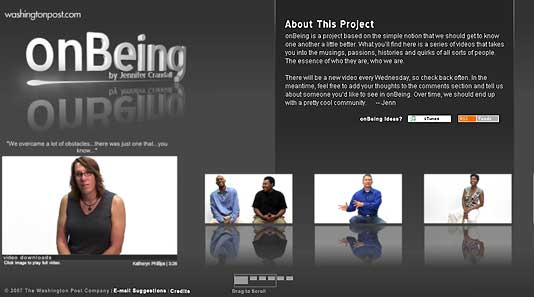 onBeing (washingtonpost.com) was the subject of a blog post I wrote in February 2007. While the once-weekly posted videos have not become "appointment viewing" for me, they clearly have for others. I pop in once every four or five weeks and watch two or three of them. I still find these videos compelling and interesting — unlike a lot of other video online! I think video journalist Jenn Crandall deserves a special award for her skill and humanity in conducting and editing these videos. They are extraordinary.
Altered Oceans (Los Angeles Times) has garnered a lot of attention already this year, and I linked to it twice (in March , when it won an NPPA award, and in April, when I wrote about unwieldy large packages online) but never really said much about it. I'll say now what I've been holding back all this time: I hate this package. It makes a beautiful first impression with its luscious graphics, but underneath that initial surface image, it's a hodgepodge of pieces that are barely connected and not one bit integrated. (If you compare it with the Minnesota Liberians story, you should be able to see what I mean by that.) I don't mean to belittle the reporting or the five long text stories in any way — but as a so-called package, this is one of the worst. It is NOT an "Outstanding Use of Digital Media" at all.
Starting on Monday, I'll post some comments about the remaining seven nominees in both the large and small categories for "Outstanding Use of Digital Media."