Posted on January 25, 2008
Choice for audio recorders
John Kroll is the news impact editor at The Plain Dealer (cleveland.com) in Cleveland, Ohio, and he was kind enough to allow me to share his opinion about the Zoom H2 recorder, which I've been dying to try out (but I have no money for these right now).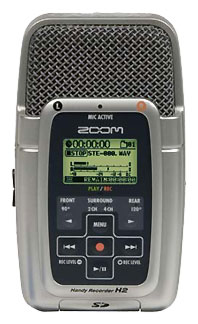 "The H2s are working fine for us. We compared them to the new Edirols, and the sound quality seemed roughly equal, but the H2s are half the price, come with more useful equipment (handle, mini-tripod, etc.) and were much easier for our more technophobic reporters to master. For most uses, we're going to use the built-in mikes rather than externals (cost saving, among other things), and we're hoping to shift most of our in-house recording to a modest studio we've set up with real podcasting mikes, using the H2s only for stuff outside the office.
"My only concern about the H2s would be the limited battery life. We're considering rechargeables, but our photo/video folks say their experience is that rechargeables die too fast in electronics, so they've gone back to alkaline. Our budget manager winces at that.
"For us, this is an upgrade from the Olympus WS-100s we'd bought in bulk over the last two years — which are quite good considering we paid as little as $40 per, but had too many drawbacks when we became more ambitious with our audio."
Source: Personal e-mail from John Kroll, Jan. 23, 2008. Quoted with his permission.
Review: Of the Zoom H2, at O'Reilly Digital Media, authored by a musician (he likes it).
Buy: From Amazon – Zoom H2
(Disclaimer: I will get a cut if you buy one using this link!)
I have to agree with the Cleveland photojournalists about alkaline batteries — you want to have spares in your pocket. A rechargeable battery is a bad thing for a journalist. It won't be charged up when you need it the most.
Update (Jan. 26): There's a good discussion about these recorders going on at Wired Journalists.