Posted on February 8, 2008
How to shoot video interviews
This is a list of guidelines for experienced journalists who are interviewing someone with a video camera for the first time. This is not TV news style; the reporter will never appear on camera, and the reporter's voice will be edited out of the final version.
See also The five-shot method for shooting video (not about interviews).
My students are required to use a tripod for interviews. They will turn off the image stabilization, and they will use manual focus.
Start by knowing which specific story points you want the interview to address. The interview is not the time to discover what your story is about. You should already know that before you enter the room for the interview.
Get comfortable talking with the person before you set up all the camera gear. Establish a human connection. Let the person see that you care about him or her. Are you nervous? The other person might be MORE nervous. Your interviewee is valuable to you. Show it.
As you are setting up the equipment, don't make the person sit or stand in place until you're almost ready.
After the person is in place, use the LCD viewfinder and make sure you like where the subject is looking. The person will want to look at you, and that is good. Do not stand directly behind the camera, but do stand close to it.
If you walk around, the person will keep watching YOU. That will look weird. Stay in one place and maintain eye contact with the person.
GET CLOSE. A big face is good in online video.
Pay attention to the BACKGROUND. (Avoid poles or trees coming out of heads! Look out for distracting items or action behind the person.)
Pay close attention to the light! If you're in bright sun (I hope not), avoid having the person squinting, but also make sure the sun is not behind the person. In a home, you may need to move the lights. You might even ask for a desk lamp to be carried in from another room to counteract a strong light on one side of the room.
WEAR your HEADPHONES! All kinds of noise might come along and ruin your audio, and in many cases, you will not notice if you are not monitoring it.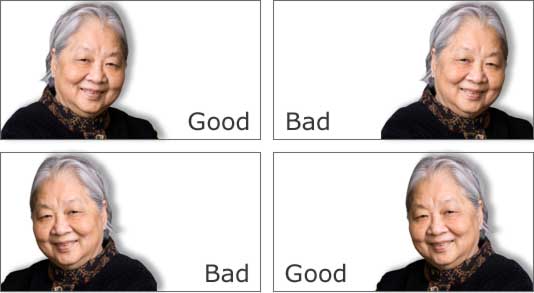 In our textbook (Documentary Storytelling,
2nd edition, by Sheila Curran Bernard), interviewing is covered well on pages 187–192. It includes a story about filmmaker Liane Brandon interviewing Betty, a woman who bought a dress and lost it, that is very helpful for visualizing and imagining what effect you want from an interview. Betty had one way of telling the story that was very amusing. But asked to tell it again from the point of view of how she felt at the time, Betty told the same story in a manner that changed it entirely, from funny to sad.
The video journalist needs to understand what he or she wants viewers to experience as they hear and/or see the final product. Is your story tragic or comic? Is this interview subject a neutral outsider, or does she have an emotional stake in the story?
Update (2:52 p.m.): I've been searching on and off all day for online tutorials or tip lists on this same topic (interviewing someone with your video camera), and so far, I have found very little. Please post a link if you know of any good resources for us.