Posted on August 22, 2008
How you look at data: Graphics vs. text
I came across a graphic showing hospital death rates in the United States (from USA Today), and I'd like to ask you to open it up and — as online folks like to say — play with it for a little while. Below are two screen captures (detail) to pique your interest, and below them, some discussion.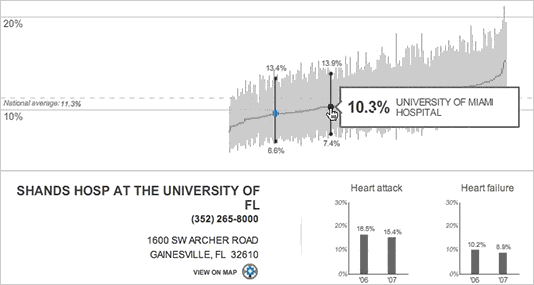 Above: Detail of the comparison of Florida hospitals, centered on Shands at the University of Florida.

Above: Detail of the locations of Florida hospitals, centered on the Mayo Clinic in Jacksonville.
So when you browse around within this hospitals graphic, think about your experience. Do you feel satisfied, do you want more, are you confused? These are some criteria by which we can judge the usefulness of an information graphic. (If you teach journalism, I suggest you do this little exercise with students — even in a lecture hall, they can call out what they want you to click and where they want you to go in the graphic.)
Now look at a different example, a database application showing FBI crime statistics (from The Florida Times-Union):

Above: Results show violent crimes in Jacksonville, Florida, for 2006.
Compare your experience with the two databases — don't forget to think about the database behind the hospitals graphic. Which one is more satisfying? Which one would you e-mail to a friend? Which one did you spend a longer amount of time with?
Related posts: