iPhone Apps for News
News update junkies, this is for you. The images are screenshots straight from the iPhone screen. You don't need the new model to run these — just the 2.0 software upgrade.
Mobile News Network, from the Associated Press. "Today in Video" and "Today in Photos" (above, top left) are very cool, although, unfortunately, the quality of most of the video is not all that great. This app loads fast, hasn't crashed yet, updates often. Grade: B+
The New York Times hasn't worked all the kinks out of this yet, but just look at how pretty it is! Loading the content is a big problem for this app (and I'm on fast wi-fi, not AT&T). The four stories seen above, left, appeared early Sunday morning, and they had not changed by Sunday evening. Yeah, I know it's the weekend, but hey. Grade: B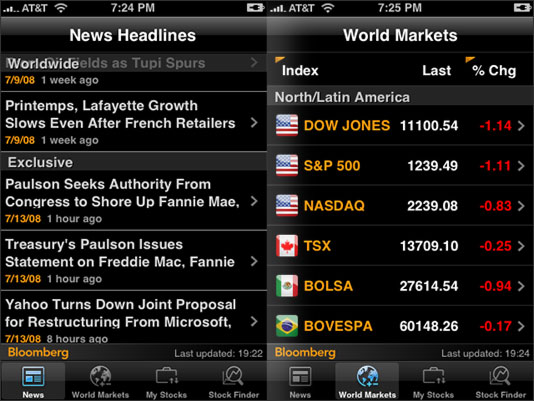 Bloomberg LP doesn't have any pictures or video, but whew! It loads fast and navigates fast. It updated a few times in the 24-hour span from Saturday to Sunday night; I'm betting that will only increase Monday. Note that you can input your own stocks, including the number of shares you own, for price updates. Grade: A
NowLocal comes from IBS, the TV news conglomerate. The stories are pulled from local newspapers and radio as well as TV, but there's only one hitch (yesterday) — the full story isn't there. You get a little blurb, as seen above, right, but the button that promises "Full Story" goes to a Web page that says sorry, what you're looking for isn't here. Sometimes tapping the button just crashes the app and throws you back to the iPhone Home screen. Grade: C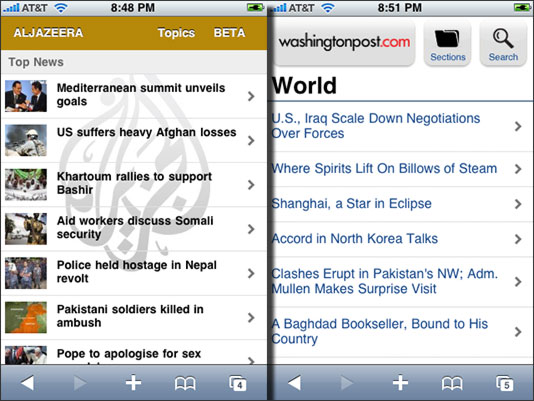 Now, these two are a bit different from those preceding them — they are not the new breed of iPhone apps but are, instead, Web apps for the iPhone. Notice how the controls at the bottom are identical. That's because these are actually Web pages. If you click the links (Al Jazeera English and Washington Post Mobile) from a regular Web browser, you'll see a big ol' Web page. But click them from the iPhone, and they'll match the screenshot above. Functionality is good for both of these — much faster and cleaner than the NY Times app, but Bloomberg's app is already this slick, with added features. Grade: B+
In the Topics list, Al Jazeera provides a direct link to their YouTube videos, which look great on the iPhone. I'd like to see an app to give me access to all the Post's documentary videos — just those. And I'd like to see an alert if there were any new videos since the last time I opened the app.
This screen capture is slightly reduced in size, but I didn't sharpen or tone it. It comes from Witness: Return to Iraq, Part 1, and it looks a whole lot better on the iPhone than it does on YouTube!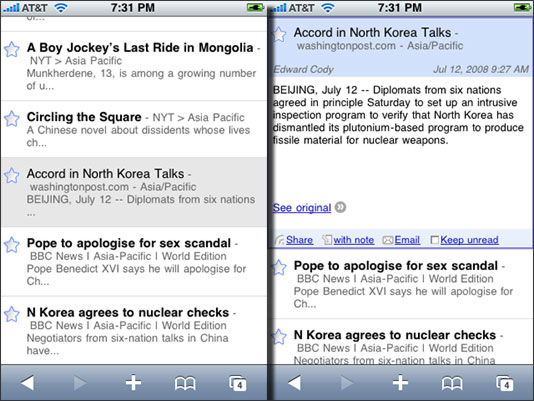 Google Reader (shown above) is my RSS reader of choice, and it doesn't come in a standalone app version (yet?). The Web version is nice because it lets you rotate the iPhone and get the widescreen view of the original article. Since some of your feeds might link to very cluttered pages, this is a very good thing! (Maybe there's no need for a standalone app.) If you want to try out some other RSS readers, there are Byline ($9.99), iRSS ($4.99), and Net News Wire (free, syncs with NewsGator).
Web apps in the News category are numerous, but so far, there are only 15 of the new standalone apps for news. To find them, open iTunes and enter the App Store.
I hope the news organizations start producing some great apps soon! (I hope Adobe makes a Flash Player deal with Apple even sooner!)