Tactics of a smart newspaper
On my vacation, I spent four days in Chattanooga, Tennessee. The newspaper there, the Chattanooga Times Free Press, made a strong impression on me. I picked up the print edition at breakfast time on Friday, and I liked it so much, I bought one each day after that.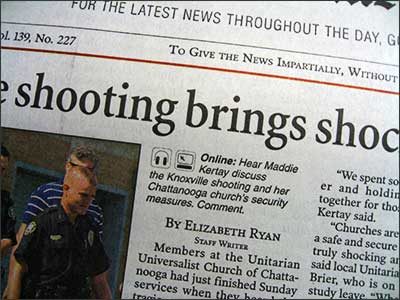 I liked the layout, the type families, the headlines, the story choices. I even liked the weight and texture of the newsprint. Wow, what a nice newspaper, I thought, about halfway through my biscuit with sausage gravy. But as you might guess, I was particularly enamored of the "online" blurbs at the top of almost every staff-written story.
Some stories had an online blurb and a refer box, like the one above that provides both a phone number and an e-mail address. I admire the user-friendliness of putting this information smack at the top of the story — it really shows that the reader comes first here, and not the writer's ego.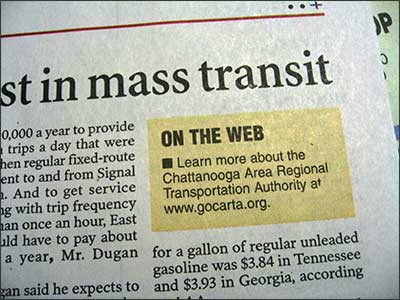 Some stories had a refer box that points the reader to an external Web site. Again, I liked the prominence given to the information. I think it increases the value of the newspaper.
I also liked the clean little icons the newspaper uses to indicate that online readers can read additional text, hear audio, view video, and comment on the story.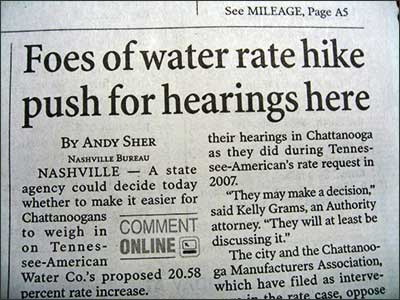 Even a local story with no extra information online can invite the audience to visit the Web site to comment. (And hey, who doesn't want to sound off about a rate hike?)
The choice of Chattanooga for a new Volkswagen manufacturing plant has been making headlines for some time already, and will continue to do so. Why not remind the print readers that they can check the past coverage of this story by visiting the Web site?
The Times Free Press is doing some nice local video, such as this one about the scooter rally I attended. Production, pacing, and story quality are all good. I wouldn't say that the Web site has reached its full potential yet (the "Spotted" photo galleries, for example, are really annoying to use because you have to wait for a new page to load and then scroll the page to see the picture — I got sick of that by the third photo).
I had wondered whether I would be able to find the features referred to in the online blurbs in the printed paper, but the organization of the site is satisfyingly straightforward. I had no problems navigating around and finding what I wanted. Even the past coverage of the Volkswagen story turned out to be very easy to find.
Update (Aug. 4): Reader Peg Achterman liked the "article tools" on the Times Free Press Web site: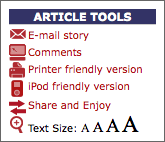 Too bad the "iPod friendly" option doesn't allow you to download videos. I tried it, but all it gives you is the text.