Posted on September 13, 2008
Why the Las Vegas Sun is so great (Part 1)
One of the more inspiring stories of the intermediate stage of online journalism takes place in the Nevada desert.
At the beginning of 2008, almost no one had ever heard of the Las Vegas Sun. "We had about six weeks to build the site after we had the staff in place," said Tyson Evans, new media design editor. That staff consisted of about a dozen people sitting in the small newsroom of an eight-page daily insert bundled inside the Las Vegas Review-Journal under a JOA.
"We wanted a lot of multimedia," said Josh Williams, new media projects editor. "Before Jan. 10, we had NO MULTIMEDIA."
Just look at them now. I show this site to every newsroom and at almost every conference I visit, because here you can see journalists producing work that is interesting, original, and really well suited to digital platforms.
Williams (above, left) and Evans (above, right) spoke Friday at the Online News Association's annual conference, and they made me feel great. They made me believe that innovation IS possible in newsrooms, that journalists CAN find ways to make journalism relevant to audiences. It's no secret that I'm a big fan of what they've done out there in Las Vegas.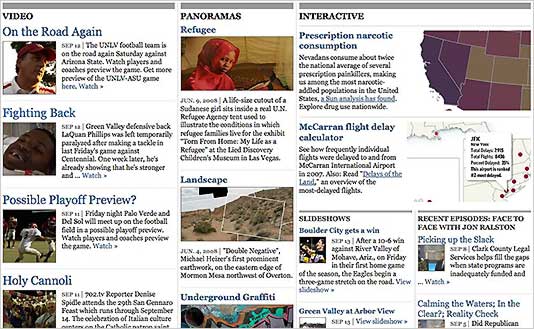 Before the January launch, the Las Vegas Sun site "was completely shovelware," driven by a long Perl script that just squeezed the print product's content into rigid templates, Evans said. The team's job was to blow it up and start from scratch, from zero.
Sure, you can say that's a luxury your news Web site can't afford. Well, your Web site will die, because it's slow and ugly and hard to use. Design as an afterthought does not work.
"We wanted to design the Web site around the content. The front page changes every day," Williams said. There are no rigid templates now.
"We thought templates should bend to the news," Evans said. The team wanted to look at the central tenets of Web design and translate them to a news site, following the principles of Web standards. That means separating all content, logic, and presentation.
"There's no mixing and matching," Williams said. "It's all nice and clean."
Part 2: What They Do (lots about their video and other multimedia)
Part 3: How They Do It (CMS, data projects, workflow, staffing)
Elsewhere: Greg Linch has posted about this session.