Posted on September 6, 2009
Now printable! Reporter's Guide to Multimedia Proficiency
Many, many people asked me to create a single PDF version of all 15 posts in my RGMP series on this blog. It's done.
Reporter's Guide to Multimedia Proficiency (PDF; 536 KB)
This 42-page document is fully linked and usable online in most Web browsers, or in Adobe Reader, or in Preview on the Mac OS. In other words, you don't need to print it. But if that's what you want, go right ahead.
If you're viewing the RGMP in Adobe Reader (free for Windows and Mac), you can click around in the expanded table of contents if you open the Bookmarks navigation pane (below, seen at left): View menu > Navigation Panels > Bookmarks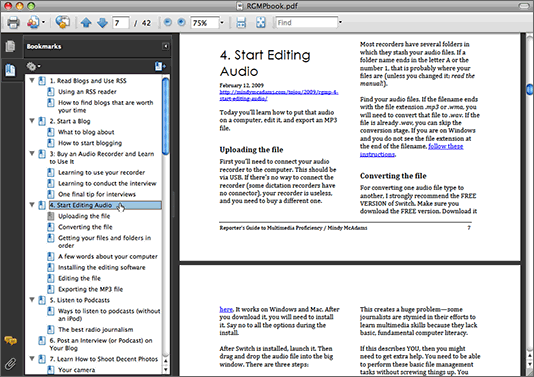 On the Mac, if you're viewing the RGMP in Preview, you can click around in the expanded table of contents if you open the Sidebar panel (below, seen at right): View menu > Sidebar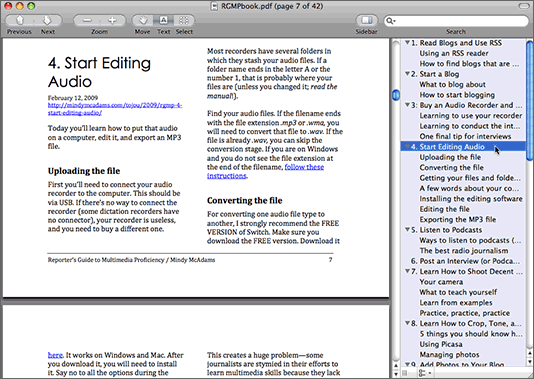 The entire document is licensed under the Creative Commons Attribution-Noncommercial-Share Alike 3.0 United States License. That means you are free to share, distribute, reuse and even remix it, but only if you fulfill the stated conditions in the license.
Attribution: You must attribute the work in the manner specified by the author or licensor (but not in any way that suggests that they endorse you or your use of the work). Here is the manner specified: Keep my name, Mindy McAdams, on any version or part of the work you copy, share, use, etc., and ALSO include the URL of my home page: http://mindymcadams.com/
Noncommercial: You may not use this work for commercial purposes. You cannot sell it or include it in something you are selling. If you are presenting a face-to-face workshop and getting paid to do so, you may use this document IF you attribute (as explained above) AND share alike (see below).
Share Alike: If you alter, transform, or build upon this work, you may distribute the resulting work only under the same or similar license to this one. THIS INCLUDES translations into other languages. If you translate this document or any part of it, you must attach the same license to your translation and make it available online without charge.
Please leave a comment here if you're going to distribute it in your newsroom or use it with your students. I'd love to know!
Translations
Update (Nov. 11, 2012): See all links to translations here.
Languages available: Chinese, German, Portuguese, Russian, Spanish.
If you create a translation, please let me know!