Posted on February 27, 2009
RGMP 9: Add photos to your blog
This is the ninth post in a series titled "Reporter's Guide to Multimedia Proficiency." In the eighth post, I discussed basic photo editing for online use, explaining some techniques in Photoshop and also pointing toward a couple of free photo editing programs.
Now that you have some practice editing photos, it's time to post a few on your blog (see RGMP 2). Most blogging platforms (e.g., WordPress, Blogger, TypePad — curious about the most popular platform? Read this) make it dead easy to insert a photo.
So, what's to learn? First, you'll need to learn how to insert a photo on your own blog. In most blogging platforms, you'll find a small button or icon above the big area where you write your post. In WordPress, for example, you'll see the words "Upload/Insert," and immediately to the right of those words, you'll roll over a little rectangle and see a tool tip pop up: "Add an Image."
The next step involves a choice: Will you upload a photo from your own computer, or will you paste in a URL for a photo that is already online somewhere?
You might choose to upload an image from your computer as the easiest way to get this done. But consider: Where is that photo being uploaded? Who controls the storage of that photo file? And if someday in the future you want to move your blog to a new platform, or simply to a new URL, what will happen to all the photos appearing on your original blog? These questions are especially important for photojournalists.
So, I suggest that you take control of your online photo storage and upload your photos to a Web space that you can control. Among many options, my suggestion is for you to make an account on Flickr; you can upload photos, write captions, and organize them in a free account, or gain additional options for an annual subscription fee. If you're logged in to Flickr, go to one of your individual photo pages and click the link to "All Sizes" above a photo (see example). You'll go to a page that provides a link directly to the photo — not the Web page that contains the photo.
You need to have that URL that points directly to the photo file — seen under No. 2 above. The filename will end with .jpg because that is the photo file format.
If you have Web server space (with a hosting service), of course you can just FTP your photos to that space and thereby control your URLs as well. (Curious about Web hosting options? Read this.) But if you want to stick with free stuff, I think Flickr is your best option for online photo management.
An important word about using other people's photos
U.S. copyright law does apply to ALL IMAGES you see on the Web, on any Web page. So it is absolutely NOT okay to copy an image (photo or otherwise) from somewhere online and use it in your blog. It is still NOT okay if you add a link to the original and/or a photo credit line. Those do NOT constitute permission from the owner of the photo.
In fact, the U.S. Copyright Office bluntly says: "Acknowledging the source of the copyrighted material does not substitute for obtaining permission."
The image does NOT need to have a copyright symbol or a copyright notice to enjoy this protection. All published works are automatically protected by this law — and that includes ALL images online.
Some people have chosen to allow limited use of their Web-published work — that is, they have given you permission in advance. They do this by posting a Creative Commons license; on Flickr, for example, you'll see this link below the tags on the right side of an individual photo page:
If someone has attached a Creative Commons license to an image online, then you are allowed to use it in the manner specified by the license. There are different types of Creative Commons licenses — some allow you to remix the material, for example, and some forbid it.
Linking photos on your blog
In the dialog box where you upload your photo or paste the URL to the photo file (in the blogging system), you'll most likely find an option to provide a link URL. This is different from the photo URL.
The photo URL tells the blog system where your photo file resides, online. The link URL indicates a Web page that will open when the user clicks your photo in the blog post. Obviously, the photo can be linked to something related to the photo. If you use someone else's image, it's polite (and proper) to provide a link to the original page where that photo appears: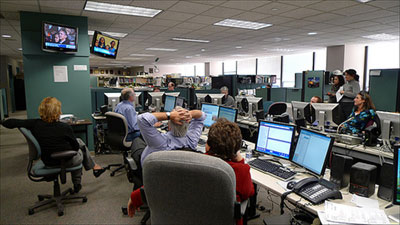 But as demonstrated by the first two images in this blog post, you do not need to link an image.
When should you link the image, and when should you not link it? I think there's a clear logic to linking in most cases. First, it's always good to link to the original source. Second, if you've captured a zoomed-in detail, it's really appropriate to link to the full image. Third, if there's more information about the content of the image, or the photographer, it's probably appropriate to link to that.
In short, if you can think of a good reason to link the photo to another Web page, do it. But always make sure your "good reason" is adding something for the benefit of the user, the viewer of your blog post. Don't add a link that would confuse or annoy the users.
Previous posts in this series: