Some thoughts about photo galleries
I was looking at this Iran protest slideshow from The New York Times today. It does not have audio, and so I would normally call it a gallery — not a slideshow. But it is carefully captioned, with factual material that goes beyond what we see in the photos, and there is a story of sorts, so it is really more than a simple gallery.
I think these distinctions are helpful for journalists to make. If you know you're just putting together a bunch of pictures of baby animals, then you also know it's not a story, and all you have to do is get the date and location and attribution correct on each photo. If you're actually curating — if you're going to add value and filter and offer up a story — then you should be culling the images carefully and adding real information in the captions.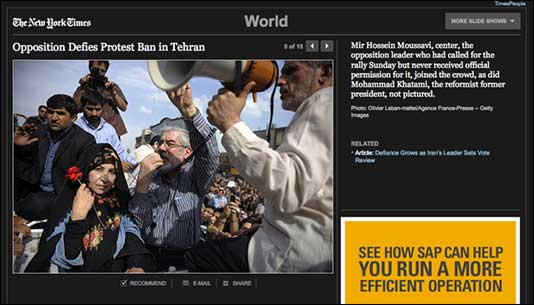 Above: New York Times photo gallery
I was impressed by the page design of this slideshow. It really places the emphasis on the image, and yet the caption is nice and big and easy to read. I did not have to scroll, ever, to read the cation or view the full photo. The dark gray background enhances the experience. The ad is easily visible but does not detract from or compete with the photograph. (Although I have cut the bottom half off the ad here, on my screen I saw the full ad, also without any scrolling.) The page loads very quickly.
Earlier this week, I interviewed several photo editors and multimedia producers at U.S. newspapers of various sizes. (The largest was the Orlando Sentinel; the smallest was the Spartanburg [S.C.] Herald-Journal. Stay tuned for a future blog post about this.) They all said photo galleries are extremely popular on their Web sites — much more so than video. They also said they are more likely to produce a video than an audio slideshow nowadays, for a variety of reasons — most of them having to do with newsroom technology and workflow rather than story considerations.
Compare the Times photo gallery design and functionality to the photo gallery template used by the New York Times Regional Group newspapers:

Above: Spartanburg (S.C.) Herald-Journal photo gallery

Above: Gainesville (Fla.) Sun photo gallery
One thing you'll notice if you click through these galleries is that you wait for some time before you get the next photo. Compared to the Times's own gallery page, this wait seems like an eternity. I find it amazing that the galleries are so popular with site visitors when they are this slow — I would never have the patience to look at even eight photos at this glacial pace.
Another thing I learned from my interviews with photo editors and multimedia producers this week: Every graduating journalism student should know enough about photojournalism and the Web to be able to construct galleries like these, including resizing (in Photoshop), proper and accurate caption writing, and adding credit information. It doesn't matter if you're an online producer or a reporter — this is part of the job now.