Posted on October 17, 2012
5 examples of interesting data presentations
What do we mean when we say, "Data can tell a story," or "Stories can be found in data"? (Click the image to view the project.)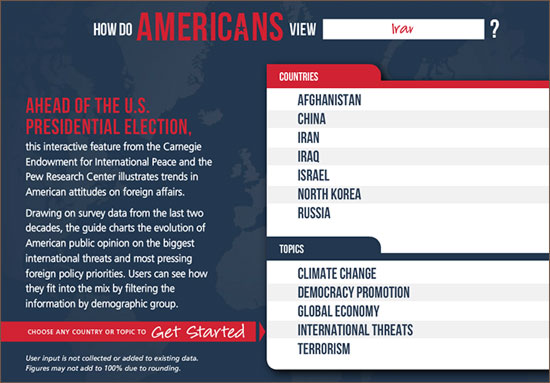 Above: From the Carnegie Endowment for International Peace and the Pew Research Center. (More info.)
Above: From OpenSlate, a market research firm; reported by Fruzsina Eördögh, at ReadWriteWeb.
Above: "Since its inception in 2002, Pew Global Attitudes Project has surveyed nearly 300,000 people in 59 countries. This interactive database provides users with the ability to access key trends on questions ranging from attitudes toward the U.S. to people's assessments of their own lives and views about the current state of the world and important issues of the day. These key trends can be accessed by question topic or by country." Updated with data from spring 2012. (Home page.)
Above: As the result of legal settlements with the federal government, drug companies post the names of their speakers — and how much they paid them — on their websites. "ProPublica took these disclosures and assembled them into a single, comprehensive database that allows patients to search for their physician" (source: ProPublica). Updated in fall 2011.
Columbia Journalism Review provided some tips for reporters and editors: How to Use ProPublica's "Dollars for Docs" Database (October 2010).
Above: From The Texas Tribune — government employee salaries in the state of Texas. Matt Stiles, data journalist for the The Texas Tribune, told Poynter "that in addition to driving about two-thirds of The Texas Tribune's traffic, the databases have attracted new audiences and provided readers with an interactive way to access information that's public but not always easy to find."