Posted on November 3, 2013
Smarter: A list for journalism students
Every week I read a lot of tweets and articles and blog posts about journalism. Every time I talk about the evolution of the field with journalism students, I see evidence that they are not keeping up.
So, a new experiment. Three articles, every Sunday, that I read this week. Three that are very different. Informative about, or pointing the way to, the future. Three, and only three.
The One Tech Buzzword Every Journalist Should Know. In this post, John Paul Titlow (a writer for Fast Company's FastCoLabs) explains why cutting-edge news organizations such as Quartz are using D3.js, a JavaScript library. What they use it for: maps, charts, and data visualizations. This post is short, and not technical.
Takeaways: Journalists need to know how to work with data, but they don't have to reinvent the wheel. Tools like Chartbuilder and OpenStreetMap give you a big head start.
"We're still babies at it": BuzzFeed Video's strategy … Journalists need to think (really think) abut why people share things, because social sharing is the main driver of news dissemination today. BuzzFeed is the exemplar for content sharing. Nieman Journalism Lab goes behind the scenes with Ze Frank, boss of video at BuzzFeed. (Online video ad revenues are growing, so some news organizations are ramping up video production to chase the ad dollars — but what if the audience does not flock to the videos?)
Takeaways: What does a video producer at BuzzFeed do? What does analysis of video sharing tell us?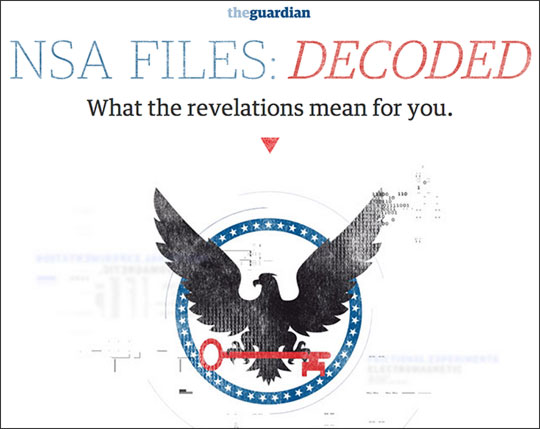 NSA Files Decoded: What the revelations mean for you. This multimedia package from The Guardian — which broke the Edward Snowden story and has published many stories based on Snowden's leaked materials — makes journalism history. Unlike previously released beautiful article designs in long scrolling formats, this time the subject of the story has worldwide and long-lasting significance. The NSA/Snowden is probably THE story of the decade, and this manner of presenting it demonstrates the range of skill sets needed in newsrooms in the 21st century.
Takeaways: Know what the NSA story means. Understand the diverse journalism skills behind making the videos and information graphics in this package.
Let me know what you think. Had you already seen all three of these? How many are new to you? Did they make you think? Did you learn something? Tell me via Twitter or Facebook or here, in the comments.