Posted on November 10, 2013
Smarter(2): A list for journalism students
Every week I read a lot of tweets and articles and blog posts about journalism. Every time I talk about the evolution of the field with journalism students, I see evidence that they are not keeping up.
So, I am trying something. Three articles, every Sunday, that I read this week. Three that are very different. Informative about, or pointing the way to, the future. Three, and only three.
This is the second installment. The first (from one week ago) is here.

The Forbes digital content model and power of the long-tail. Forbes publishes hundreds of articles on its website every day, and 60 to 70 percent of the writers earned $45,000 in the past year, said Lewis D'Vorkin, Forbes's chief product officer. Of the remaining 30 to 40 percent, some writers are getting nothing but exposure — on a site said to have 52 million unique visitors per month. This conversation with D'Vorkin is not the first time the Forbes content model has been examined, but I liked the combination of business strategy and relevance to writers in this report. (Read more about Forbes.)
Takeaways: Understand the kinds of business models that news sites use. To work in journalism, you need to know how the game is played. It's not only about how the individual writer gets paid; it's also important for the organization to have a plan that enables it to survive, expand audience, and pay writers. Part of Forbes's strategy is the long tail, an important idea in online content strategy.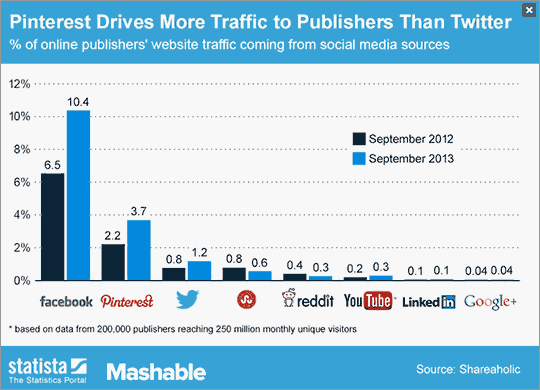 Facebook, Pinterest, Twitter, and YouTube referrals up 52%+ in past year. This report from Shareaholic raises several questions (in my mind). I was led to the post by a compelling chart published on Mashable (shown above). But what I'd like to know is, how valid are the data from "200,000 publishers who reach more than 250 million unique monthly visitors"? For example, TripAdvisor has 260 million unique monthly visitors — is TripAdvisor a "publisher"? BuzzFeed has only 85 million — so does that mean BuzzFeed doesn't matter?
Takeaways: The chart might represent something useful, but without knowing more about the "200,000 publishers," we should not accept it without question. If we charted the data from only news websites, maybe the chart would look different. Referrers from sharing sites need to be studied and analyzed by all online information providers, but data from your own site is far more useful than an aggregate.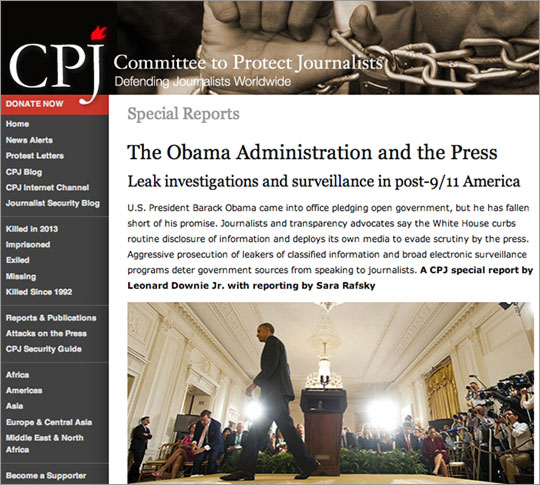 America's Shackled Press. This readable summary explains the importance of a new report from the Committee to Protect Journalists (CPJ), which never before now felt the need to commission a special report on the United States — where the press is supposedly free. CPJ tracks oppression of and attacks against journalists in countries all over the world. The new report details how the Obama White House has "undermined the media's ability to hold the government accountable." The full report, titled The Obama Administration and the Press, is available online.
Takeaways: Journalism students are taught about protecting their sources, but because of electronic surveillance, today you cannot guarantee such protection unless you take extraordinary measures. If you can't protect a source, that source might not be able to give you information, because exposure will cost him or her too much — a job, a career, an identity, even his or her life. How much will remain hidden because we cannot ensure a source's anonymity?
I'd love to know what you think. Are these three items new to you? Did they make you think? Did you learn something? Tell me via Twitter or Facebook or here, in the comments.