Posted on December 15, 2013
Smarter(5): A list for journalism students
Each Sunday, I post links to three (and only three) recent articles that are informative about, or pointing the way to, the future in journalism. Previous posts can be found here. There is also a Tumblr for this series, named Smarter. (I missed posting the past two weeks.)
Planet Money Makes a T-shirt. This is one of the most effective uses of multimedia storytelling I've seen. It started with a cool question: How do T-shirts (ubiquitous and usually taken for granted) get made? In April 2013, the Planet Money team of journalists launched a Kickstarter campaign  to fund a reporting project about the global garment industry. People could pledge $25 to get a T-shirt, and Planet Money would report every step of that T-shirt's production, starting in the cotton fields of Mississippi. Backers put up $590,807. Ten reporters covered the story, some of them traveling to Indonesia, Bangladesh, and Colombia along with the cotton as it became cloth and, finally, 25,000 T-shirts.
Takeaways: Tight integration of video, text, and information graphics makes this a seamless (pun!) story from the reader/viewer's perspective. You can choose among five chapters, but you never have to click and leave the main story. It's easy to follow. Ruthless editing kept each part of the story short and snappy. The videos take us to places we've never seen before in a whirlwind tour — no time to feel bored. Charts are clean and clear. The text is straightforward and engaging. This is a great example of how to make a story interesting and use all media types to their very best advantage.
Why Are Upworthy Headlines Suddenly Everywhere? Don't let the headline fool you — this article from The Atlantic is not all about Upworthy OR headlines! It's actually about how Facebook and Twitter drive traffic to news sites, which in turn drives editors to try anything they can think of to get people to click what they post on Facebook and Twitter. The power of these sites was illustrated in October when Facebook changed the algorithm that controls its News Feed, and traffic to news sites from Facebook increased even more.
Takeaways: It used to be that people bought a newspaper or tuned in to their favorite nightly news show on TV. That's not how most people get news today. The phrase "drives traffic" obscures a larger truth: Facebook is responsible for what a lot of people find out about what's happening in the world. This affects how they think about issues and maybe even how they vote. Find out how Facebook determines what appears in your News Feed.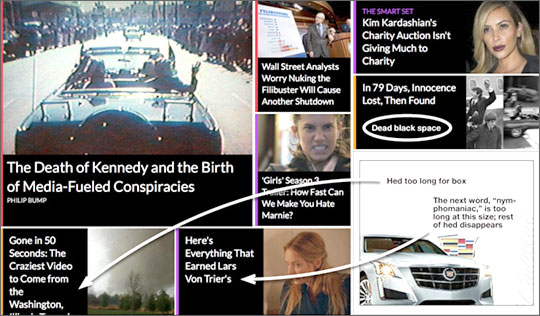 Do mobile-friendly redesigns run the risk of frustrating desktop users? Recent redesigns of news sites favor mobile visitors over people who view the site on a larger screen (whether desktop or laptop). Writer Sam Kirkland argues that "millions of us still sit at a desk in front of a computer at work all day" and "sometimes prefer the larger screen."
Takeaways: Mobile design advocates, including Miranda Mulligan and Damon Kiesow (quoted in the article), mostly dismiss Kirkland's concerns. Mobile viewing of news sites is the present and the future, and the number of people who browse a big, crowded "home page" or "landing page" is expected to continue its decline. Therefore, resources invested in those large-screen formats are (largely) wasted.