Posted on December 30, 2013
Smarter(7): A list for journalism students
Each Sunday, I post links to three (and only three) recent articles that are informative about, or pointing the way to, the future in journalism. (Oops — this week, it's Monday.) Previous posts can be found here. There is also a Tumblr for this series, named Smarter.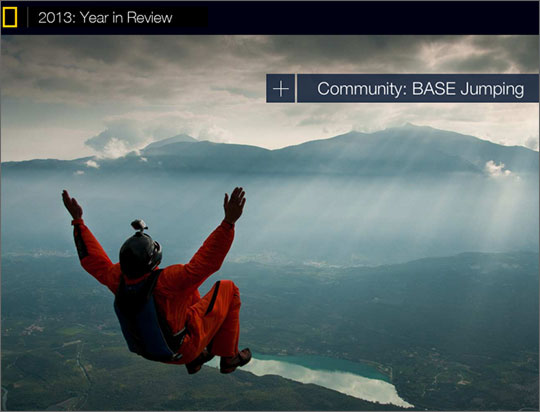 National Geographic: Year in Review. Get on your big screen for this lush, photo-filled extravaganza. Each of 12 categories (Adventure, Animals, Cultures, Space, and more) offers 10 or more glimpses into amazement (brain-eating amoebas! Kyrgyz nomads! nano flowers! Eurasian otters! cougars!), and most link out to a full-text story from NatGeo's famous magazine. Just browsing provides plenty of satisfaction, but it's nice to know that when your curiosity is truly piqued, you're one click away from deeper details.
Takeaways: Having perfected this full-screen interface in the brilliant Serengeti Lion multimedia epic, NatGeo applied it to a year-end roundup that features its own best stories. There are two lessons here: (1) Re-use and repurpose code and design when appropriate; and (2) Do not let your past stories, photos, etc., go to waste, forgotten and unviewed. NatGeo plays to its strengths here, showcasing stories and images that other publications do not have.
Tomorrow's metric for news is action. Measuring things is important, especially when those things are growing or shrinking and we're not sure why. Newspapers, magazines, and TV networks always liked to measure (or count) subscribers or viewers. Online, however, that measurement breaks apart into individual stories or segments, and journalists look to the numbers as indicators of what they should produce more of. But wait — does that mean more stupid viral videos? NPR reporter Elise Hu says no — in this article for Nieman Journalism Lab, she suggests we should really be measuring how our journalism influences real outcomes in the world. In other words: Measure the difference your journalism makes.
Takeaways: Students should make themselves familiar with the terms Hu uses in this article, such as "social lift," "impact," "engagement," "time reading" (also called "time spent"). Follow her links to learn about the engagement strategies of ProPublica and Medium, two journalism organizations you definitely should be following. If you don't know exactly what she means by "agency," "participation," and "community," then get busy. Hu is writing about journalism that has value, and that's journalism that knows what its purpose is. How do you measure that?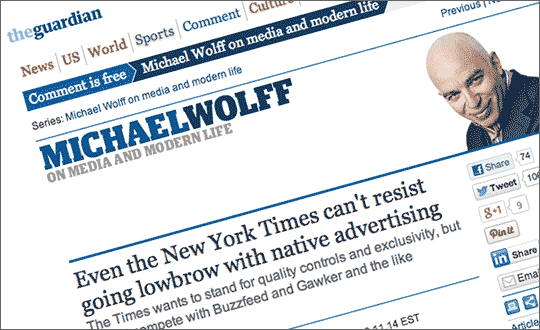 Even the New York Times can't resist going lowbrow with native advertising. Writers now inhabit "a flattened world … in which there is only one real measure, traffic," says Guardian columnist Michael Wolff. He means traffic to stories, which means audience, and sharing, and how many people view (and presumably also read, although that's up for debate). Native advertising (also known as branded content) "can sometimes blur the distinction between advertising and editorial, especially in the digital space" (Joe Pompeo, writing at Capital), and that's something most journalists know to be both dangerous and distasteful. For the esteemed New York Times to stoop so low(brow) is, well, a giant flashing confirmation that the business of journalism has changed. The question remains whether the ethics and values of journalism can survive this.
Takeaways: Students who want to be writers might scoff at the idea, but everyone who works in journalism today needs to be looking at the business side. It's how you get paid, after all! Wolff's column provides a good introduction to the stakes and the present playing field. If you read it carefully, you'll understand why he says: "How advertising is handled has always been a key distinction between low and high order publishing," and "it's very hard, if not pointless, to separate real content from phony stuff." Pay attention to what he means by "content disaggregation" and "traffic aggregation" — these are two very important factors in the business of journalism online. Those who aspire to be writers need to understand that even The New York Times has "lost the wherewithal to sell high publishing."