Twitter milestone: 8,000 followers
Yesterday my Twitter odometer rolled over, as follower No. 8,000 appeared.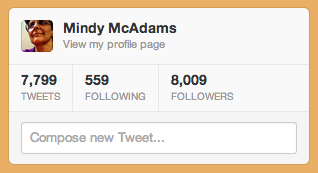 My Twitter handle is @macloo.
I use Twitter mainly as a news feed. I don't follow friends from my personal life (unless they are in journalism), and for the most part, I don't tweet personal things.
I use Hootsuite as my Twitter client both in my Web browser and on my phone.
Twitter has become my first and most-used news source. I use an RSS reader (Feedly), but I open it only when I'm stuck without any reading material (waiting at a doctor's office, for example). I never go directly to any news organization's home page. Seriously, never. (Unless I'm preparing something for a presentation and I need some screen shots.)
Many people — including most of my students — do not use Twitter this way. I find it invaluable, and I'm somewhat amazed at how my news habits have changed since  I started using Twitter on my phone several years ago.
I follow a number of news sites (actually very few) selected to be non-redundant. One of my stalwarts is Al Jazeera English.
I follow certain journalists who tweet selectively, such as The New York Times's Patrick LaForge.
I follow a lot of my online journalism heroes, who keep me up-to-date on new developments in the digital arena.
I cull the list of those I follow, eliminating people when they start tweeting things that don't concern me (such as too much personal stuff).
When news breaks, I open a new stream in Hootsuite and follow hashtags.
I follow links every time I open Twitter. I favorite those I don't have time to read right away.
I also have my bookmarks manager, Pinboard, configured to save any URL that I send in a tweet.
This is my news consumption now. It's almost all Twitter.