Posted on January 6, 2013
What people search for online
When you're writing a blog, you should check your stats from time to time (I'm not as obsessive about it as some are) to see what people are reading, where they came from (referrers), what they click in your posts.
Search terms are especially interesting to me. They don't exactly correlate with the most-viewed posts on a blog.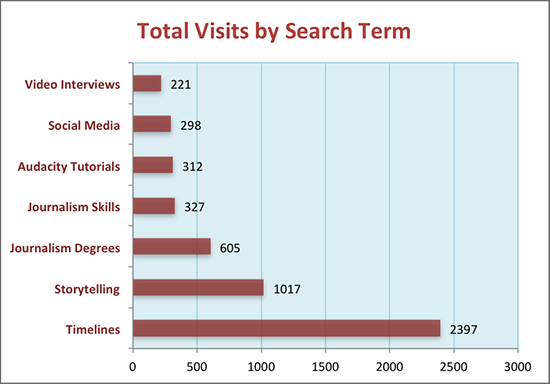 I find the popularity of the search terms timeline, timelines, and — check out the detail list! — the Chinese characters for "timeline" to be mystifying. When I do a Google search for timelines, my post about that topic doesn't even appear on the first two pages of results.
That brings me to a key observation about paying attention to your stats. If people are coming to your site because of a search, you should think about whether you might want to offer them more on that topic. I don't mean you should add stuff that doesn't match the mission or purpose of your blog — but think about whether it makes sense for you to beef up your content to satisfy those searchers.
Early in 2011, I looked at my blog stats and saw that a large number of searches then included the word timeline. So I searched my blog and found I didn't have any posts devoted to the design or production of timeline graphics. So I made a mental note to get around to that, someday — because those graphics are part of teaching about online journalism.
Later that year, in April, I was asking students in a journalism course to create an interactive timeline graphic in Adobe Flash. I wanted to show them examples, so I dug into my bookmarks — and then I had the material for a blog post about timelines (already linked above). I suppose that accounts for the extraordinary dominance of related terms in my stats for 2012.
There are hundreds of search terms (in my WordPress stats for this blog) that resulted in fewer than 40 site visits in 2012. If I did a text analysis of all the search terms (maybe using a clustering algorithm from Overview?), maybe I would find others in the 200-300 count range, or even higher, but I'm not that into it. I had enough interest to paste the top search terms into Excel and generate the chart you see above — which took a lot less time to do than writing this post!
Take a look at your blog's search stats — if you're serious about blogging.
Update: Total search terms that people used in 2012 to come to Teaching Online Journalism: 498 (my WordPress logs do not show any terms that were used fewer than 5 times). Total visits from those search terms: 10,837. (So the people who came for timelines may represent about one-fifth of all who came via search.) Total site visits for the year: 99,567.