Posted on January 20, 2014
Smarter(9): A list for journalism students
Each week, I post links to three (and only three) recent articles that are informative about, or pointing the way to, the future in journalism. Previous posts can be found here. There is also a Tumblr for this series, named Smarter.
The Net Neutrality Court Case Decoded. I fear that most students know far too little about this. A Jan. 14 decision by the D.C. Circuit Court of Appeals means U.S. broadband service providers — the companies that you pay for your Internet access — are not limited by certain FCC rules that essentially require(d) those companies to offer equal access to all sites and all types of online content. This article plainly lays out the issues and explains why they matter.
Takeaways: What could change about the Internet if "Net neutrality" is, in fact, dead? Look at what might happen to video streaming. Price structures for Internet service could change. The most serious concern, however, is about free speech itself. If you've learned about the gatekeeper role of journalism, you probably understand that on the open Internet, there are no gatekeepers. The gates are wide open, and you can get anything. The new ruling changes this, allowing U.S. broadband service providers to become powerful gatekeepers.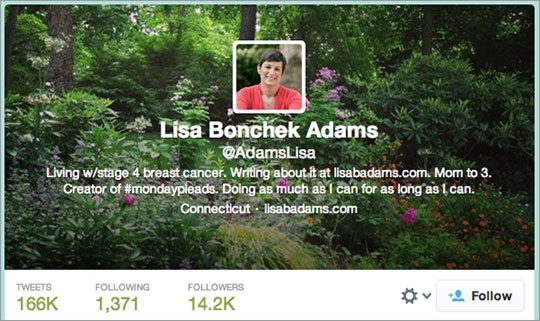 Social Media Is a Conversation, Not a Press Release. Debate erupted over a pair of columns written by a journalist (in The Guardian) and her husband (in The New York Times) about the social media communications of Lisa Adams, who writes about her experiences with metastatic breast cancer. The matter exploded so messily that The Guardian took down Emma G. Keller's column (see commentary on that decision) and The New York Times's public editor wrote about the NYT column, suggesting that perhaps "[Bill] Keller didn't make a full effort to understand the point of view of the person he's writing about."
Takeaways: Writer and professor Zeynep Tufekci zeros in on the journalistic failing of misunderstanding. In this case the subject, Adams, is able to speak for herself (largely on Twitter, where she has more than 14,000 followers). The assertions and assumptions of the two journalists who wrote about her can be fact-checked against Adams's own social media record (Tufekci points out some fact errors). Big lesson: A superficial skim of a person's blog and tweets is not sufficient for credible journalism. Tufekci says both Kellers failed to understand "how social media works as a conversation and as a community."
Is This Thing On? Actually focused on viral content, this well-written article meanders enjoyably around ideas about audio stories, why we love them, why reporters make them, and why they so rarely go viral. There's a great case concerning a Vimeo hit video titled "The Scared is Scared." There's the uber-case of  viral audio — "Two Little Girls Explain the Worst Haircut Ever" — in which MetaFilter played a role. There are also some interesting thoughts about podcasting, which hardly anyone talks about anymore.
Takeaways: Lots of questions here. What do we mean when we talk about "viral"? How much of it is luck? How much is having a great story that people want to share? And how much of it is the medium? Why is video more viral than audio? Pay attention to what the article says about SoundCloud at the end. That might be the key to the next viral audio event.
I'd love to know what you think. Are these three items new to you? Did they make you think? Did you learn something? Tell me via Twitter or Facebook or here, in the comments.